I
confess (did you notice?): I've been way off keeping up with my social networking! Lest you think we didn't have plenty to blog about at hair habitat...not the case. Many good things happening. Growth is good, but it requires nurturing, thoughtful decisions and patience! Let me be short and sweet because this is the best news to our friends and clients at hair habitat.
Ok. Well, the short and sweet of it is a new stylist has joined our team at the habitat! That's the short. The sweet part is that she is a phenomenal artist, stylist, earth-loving, talented woman! Her name is
Shannon Smith
and she has taken to our hair habitat ways like a "fish in water". We've
known
of Shannon for a while, quietly (sometimes) hoping she'd follow her environmentally sensitive heart to work with us! Call it what you want, but we knew it was meant to be. :)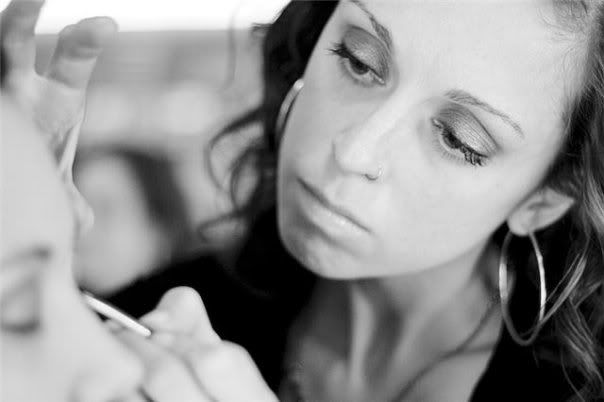 Introducing: Shannon Smith
Shannon is ready and eager to take new clients!! For some of you who have called and been put on waiting lists for an appointment, we've got you covered.
OH...Did I mention that for a very (VERY), limited time we are offering $10 off a styling service with Shannon? It's our way of making her feel welcome and extending a special thank you to our new clients who've been patiently waiting. We are absolutely sure you'll be thrilled with your new style! What are you waiting for? Let's see, this offer will end November 24, 2010. Call the salon soon for your appointment 315.373.0111. Tell Jamie, our fabulous salon coordinator, that you want to welcome Shannon.
AND, speaking of Jamie...he did an informal interview with Shannon on Friday. Read on if you want to know a little more about Shannon. Thank You, Jamie!
You're from the Syracuse area; tell me a little bit about yourself.
Well, I was born and raised in Central New York and love it here. I have a teenage daughter who just started her freshman year at West Genesee High School, and let me tell you, she loves the experience and independence that comes with growing up! I'm a trained make-up artist and have been making and selling jewelry in the Syracuse area for almost 10 years now. I would consider myself a spiritual person with a passion for inner and outer beauty – I attend weekly meditation sessions at the Zen Center in the Valley.
What inspired you to get involved in the hair industry?
I love the instant transformation that a haircut or color service can give a person. Whenever I see someone leave the salon with a glow about them because of their new cut, it always reaffirms my choice to be a stylist.
What about hair habitat appealed to you?
Really, it was the level of consciousness and concern for the environment as well as the drive to achieve healthy hair for each and every client. The atmosphere at the salon is a perfect match for me – the calming music, not having to work with harsh chemicals, the unique décor – it fits me and my lifestyle like no other.
What services and styles do you like best/have the most fun doing?
Typically I have been fond of men's cuts, super short texturized women's cuts, soft natural looking highlights, and long tousled layers. However I love the power of shaping someone's hair to achieve the radiant style they want – I can work with any type of hair out there!
What are some fun things you like to do outside of the salon?
I love eating, I mean who doesn't?! I love cooking vegetarian meals for myself and my family. I consider myself to be an artistic person, so I create a number of mixed media collages, art, and jewelry pieces whenever I have time. But, most of the time I'm trying to think up different funky artsy projects and dabble at whatever I get my hands on.
What is your favorite restaurant in town?
There will always be places in my heart for Strong Hearts Café (located conveniently downstairs from hair habitat), and Roji Tea Lounge. These places really have some of the best stuff in the city.
Do you like the winter in Syracuse?
Not at all. I do love the seasons, but much prefer spring and fall.